eSource: Heart Line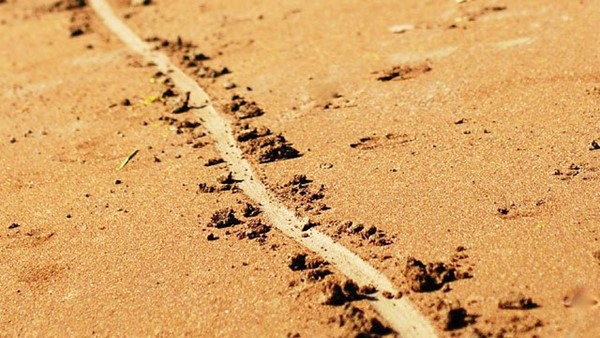 Last week I was reading Acts 5, and found myself challenged by the story of Ananias and his wife, and how they brought a sum of money to the church, but kept their own portion. In Acts 5:1-11 I read how this couple had used their land in a way they technically had right to – choosing to sell it – and had given a portion to the church, to support the disciples – and yet still they each ended up dead! I was challenged by this! Thinking about how the disciples are actively preaching the Salvation of Jesus, yet here it feels like sudden wrath. The more I chewed this over (and talked it over with someone!) the more I saw the root of it. The heart issue. Despite doing what they had 'right' to do as landowners, and despite giving to the church – they kept a portion. They drew a line in the sand of what was God's, and what was theirs, rather than surrendering all to God and trusting His plan for their provision and lives moving forward.
I feel this so well tied to the series we've been hearing on Sundays. It challenged me to think about – is there a line in the sand that I draw when it comes to idols – that I will surrender a portion of it, but not all – hoping to still retain some control or self-sufficiency. Acts 5:12-16 shows us that even despite the death of Ananias, and the fear this brought the community – people still were added to the faith! God will move, and I want to be a part of it, I don't want to miss that chance to be hungry for more of Him, and to tap into His living water and see my whole life transformed, rather than a portion of it and a line in the sand of where transformation stops. Where in your life are you potentially drawing a line that you could instead give the whole portion over in surrender to God, and let him move in your life?
- Loren Mavity, Youth Leader
The Church We See
Shout out to Kacey Aujero & Corey Dick for the way they served our grade 7-9 youth on Sunday just gone running Revolution. Thanks for giving up time to facilitate learning the Bible, have fun building connections in games and spending time in community. Especially thanks Corey for serving those only a few years younger than you while you're in youth yourself! You are champions!
- Loren Mavity, Youth Leader
(Feel free to send in a story of somebody you have seen that will encourage the rest of us. If you are in doubt if they would be ok for it to be shared, check in with them first. Email info@catalystchurch.com.au).
Men's Event coming up – 19th November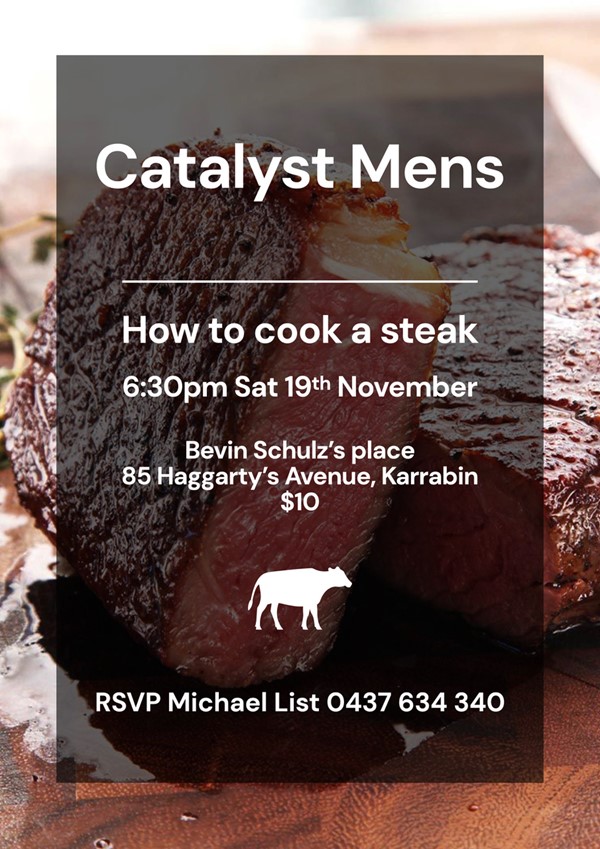 On Mission
Click here to see this month's edition.
Connections
Are you in a Connect Group?
Are you thinking about joining a connect group? It is a great way to build friendships, have a laugh, be encouraged, learn something new, and receive prayer. Click here to see if there is a connect group for you in your area.
Craft mornings every Friday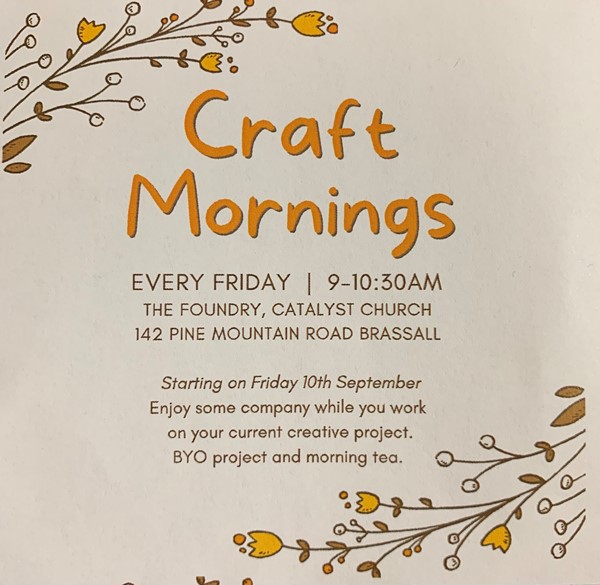 Hope to see you there!
For more info about this new time of fellowship, please contact women@catalystchurch.com.au.
Catalyst Cares!!
TO ORDER A HAMPER
Call the church (3813 4999), or use this link before 12pm Wednesdays, for Thursday collection or delivery (pre-ordering means the hamper includes fresh produce).
OR
Attend church campus on Thursdays between 2pm and 4pm to collect a hamper without fresh produce.
COSTS $10. Cash and EFTPOS accepted.
Orders can be placed for yourself, or for someone in the community you'd like to bless.
Prayer Needs:
PRAY for Melissa Bryce (Greg & Sue Verrall's daughter) as she has been incredibly unwell this week. Please pray for a speedy healing and answers as to what's going on.
PRAY for our Tiny Land children as they settle into their new room! Pray for the leaders as they share Jesus with these precious children and their families.
PRAY for Week 4 of the Unashamed course. Continue to pray for the ladies and their healing journey.
PRAY for Debi Hogarth as is at home recovering from the procedures. Pray for guidance for the doctors as they plan for Debi's ongoing treatment.
PRAY for Noel Keidge as he has a fall a few weeks ago and is recovering in hospital. Please pray for healing as well as for Dulcie as she copes on her own.
CONTINUE TO PRAY for the Rayward family as on Tuesday Pat goes back into hospital for a month to undergo his second operation to put more stem cells back into his body. Please pray for this Pat and his healing and the family as they cope with all the pressures surrounding this cancer journey.
PRAY for Gerry and Beverley Lawes as they received sad news this week from their specialist after significant tests. Gerry is not able to continue on the liver transplant list due to more tumours forming. His cancer is aggressive. This is devastating news for both Gerry and Beverley. We will be upholding them in prayer as Gerry continues with chemo treatment.
PRAY for Karen and Gary Thornton as Gary has been admitted to St Andrews hospital critical care unit due to growths on his lungs and stomach as well as suffering from fluid on his lungs. He is in much pain The doctors are doing further tests to determine the nature of these tumours. As Gary is the primary carer for Karen, this leaves her in a vulnerable position. Please be in prayer for this couple as they are separated and continue to pray for healing.
CONTINUE TO PRAY for healing for Lyn Surtees as she waits for her operation date. Pray for her pain to be minimal during this time and a sense of God's peace to surround her and Ron.
PRAY for Eva Wieland as she returns to her nursing home, that she settles in quickly and continues to heal and recover from her operation.
THANK YOU for your prayers! Prayer is such an important ministry and God moves because of your prayers! May you be so Blessed!
Coming up:
31st October - Message from our new pastor Clinton Montgomery
7th November - Navigating Relationships: Family – Betsy Jones
14th November - Navigating Relationships: Marriage – Carl & Jess Mutzelburg
21st November - Navigating Relationships: When they go bad – Carl Mutzelburg
Giving via a Discretionary Trust
Please note that Catalyst Church can claim back franking credits from the Australian Taxation Office where you give via your Discretionary Trust and where the distribution includes a component of franked income.
Please provide Sue Verrall with your Trust Distribution Statement via accounts@catalystchurch.com.au .
Online Giving Options at Catalyst:
Please give your tithes and offerings online by direct debit (preferred) to the following accounts:
Tithes and Offerings: Account Name: Catalyst Church Inc. (General A/c)
BSB: 633 000 Account Number: 132187154
Beyond & Missions: Account Name: Catalyst Church Inc. (Beyond A/c)
BSB: 633 000 Account Number: 134471697
Giving:
Giving last week: $14,413
Average to Date: $16,365
Budget: $15,759
"Beyond" giving last week: $5,711
Catalyst Business Directory:
In a bid to continue to connect our church, we are looking to each week advertise businesses offered by people within our church. If you would like to have your business added, please email angelac@catalystchurch.com.au.
(NOTE: There is NO CHARGE to have your business listed here.)
Business Name / Contact / Phone / Website / Email / Services offered
Activ8 Personal Training: Donna Pottinger - 0431 322 721
activ8_pt@live.com.au Personal Training, Group Fitness Classes
Aqua Nails and Beauty: Lisa Rasmussen – 0417 685 355 or email aquanailsandbeauty@gmail.com
Nails, tinting & waxing - take time out for yourself!
At the Drop of a Hat Productions: Barbara Westerman - 0431 631 663
www.drophatproductions.com OR Email: drophatproductions@gmail.com
Web Design, Memorial DVDs, Celebratory DVDs
Australian Services & Distribution: Peter Tully - 0418 785 505 mail@asd.com.au
IT & Networking needs - Home Office / Business Computers - (Serviced Remotely)
Can & Will Property: Carrie Bischoff - 0431 779 154 - Professional Property Management & Tax Depreciation Schedules for properties in the Ipswich / Springfield area. www.canandwillproperty.com.au OR Email: carrie@canandwillproperty.com.au
Christoff Remedial Massage: Dale Christoff - 0406 534 294 (Mobile or Brassall)
Disability Community Awareness: Peter & Linda Tully - 0418 785 505
Ipswich@asd.com.au Community Promoters, Supporters & Mentors
Firewood: Geoff Lokan – 0409792435
Contact Geoff for all your firewood needs.
Ipswich Counselling and Therapy: Jocie Meadth – 0437 890 939 or email info@ipswichcounsellingandtherapy.com.au
Our goal is for you to reach yours.
Right Look Property Maintenance Ipswich: Greg & Ben Verrall – 0411 732 118 or 1300 374 448
Email: ben.v@rightlookpm.com.au
For all property maintenance and handyman work, call us for a free inspection and quote.
Saxon Signs: Belinda Saxon - 0418 723 136 or saxonsigns@bigpond.com
Signs, Banners, Chalkboards & Vehicle signage
Scotty Macs Concreting PTY LTD: Scott McConochie & Melissa Lokan - 0417637845 or 0438877084 scottymacsconcreting@icloud.com
We pretty much do anything & everything concrete, Industrial, civil, & residential.
Note: This Business Directory is provided as a service to our attendees. We do not endorse the businesses listed here and any transactions that take place are solely between you and the service provider.